2019
Buku Ajar
Buku Ajar Manajemen Pemasaran Bank Syariah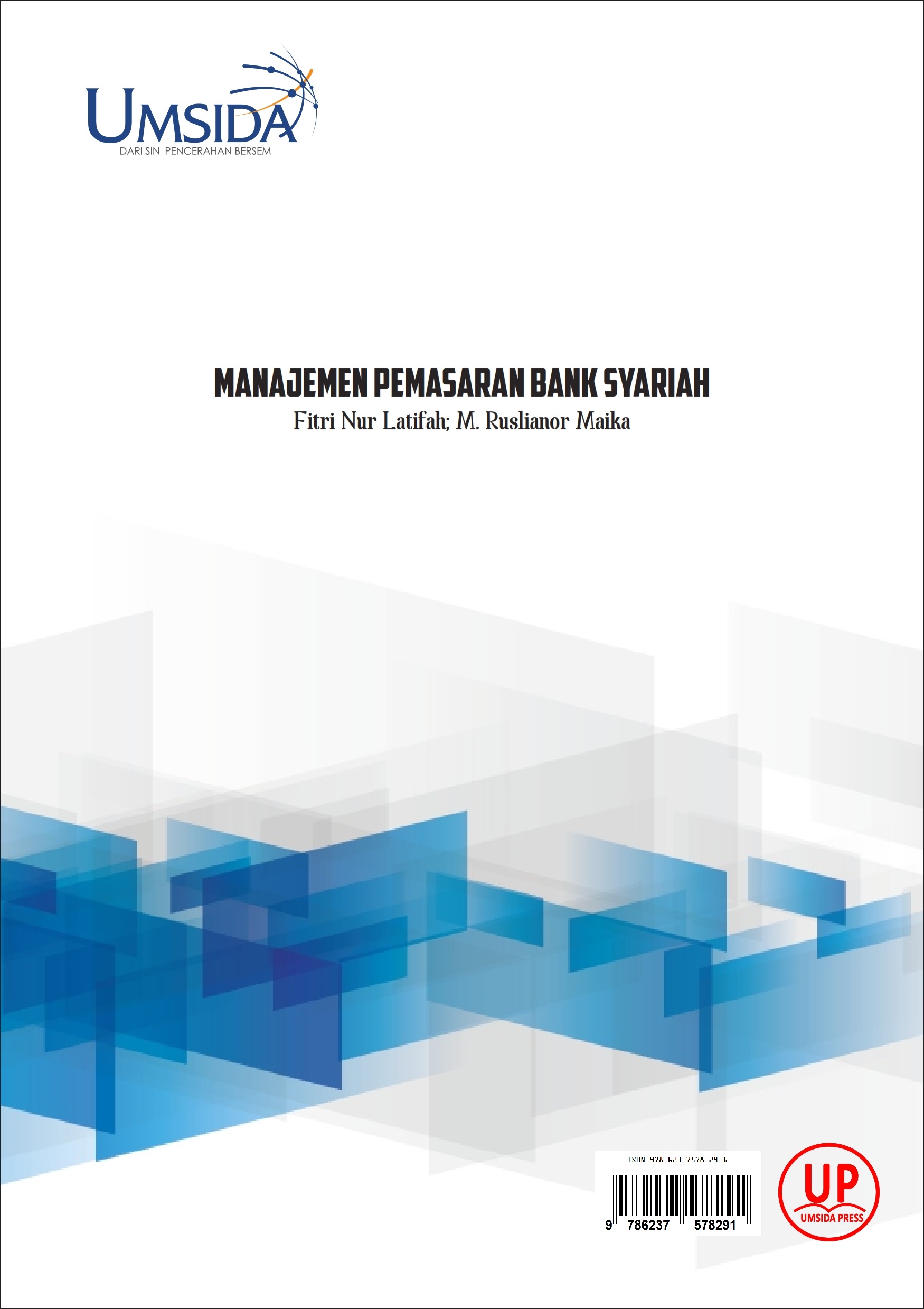 Picture in here are illustration from public domain image or provided by the author, as part of their works
Published
August 28, 2021
Keywords
Buku Ajar

,

Manajemen

,

Pemasaran

,

Bank Syariah
How to Cite
Latifah , F. N., & Maika, M. R. (2021). Buku Ajar Manajemen Pemasaran Bank Syariah. Umsida Press, 1-180. https://doi.org/10.21070/2019/978-623-7578-29-1
Copyright (c) 2019 Fitri Nur Latifah , M. Ruslianor Maika
This work is licensed under a Creative Commons Attribution 4.0 International License.
Abstract
Puji syukur penulis panjatkan kepada Alloh Subhanahu Wata'ala atas segala nikmat, rahmat dan karunianya sehingga penulis mampu menyusun buku yang sederhana sebagai kontribusi dalam upaya terus mengembangkan Ekonomi Islam khususnya bidang manajemen pemasaran bank syariah di tanah air tercinta ini.Sebagaimana kita ketahui bersama perkembangan Banks Syariah maupun lembaga keuangan syariah di Indonesia dari tahun ke tahun senantiasa menunjukkan peningkatan.
Downloads
Download data is not yet available.
References
Abazhah, Nizar. Syahsiyah Al-Rasul. Jakarta:Zaman.2013
Abdullah. Asuransi Syariah, Jakarta: PT. Elex Media Komputindo,2006
Abdullah, Thamrin dan Tantri, Manajemen Pemasaran. Jakarta: Rajawali Press, 2014
Al Arif, M. Nur Rianto, Dasar-DasarPemasaran Bank Syariah. Bandung:Alfabeta, 2010.
Askari. Hossein dkk, Globalization And Islamic Finance: Convergence, Prospect and Challenges, John Wiley & Son (Asia) Pte., Ltd., Singapore, 2010
Case. Karl E dan Fair. Ray C, Prinsip-Prinsip Ekonomi, Edisi Kedelapan, Jilid 1, Penerbit Erlangga, Jakarta 2002
Huda. Nurul dkk, Pemasaran Syariah: Teori dan Aplikasi, Edisi pertama, Kencana, Depok, 2017.
Kasmir, Pemasaran Bank, Jakarta: Kencana,2008.
Kotler. Philip dkk, Marketing Management, Ninth Edition, Prentice all Publishing, 1997.
Kotler. Philip dkk, Marketing Management: An Asian Perspective, Fourth Edition, Prentice Hall Pearson Education South Asia Pte., Ltd., Singapore,2006.
Malahayati, Rahasia SuksesBisnis Rasululloh, Yogyakarta: Great Publisher, 2010.
Mardani, Fiqh Ekonomi Syariah: Fiqh Muamalah, Jakarta: Kencana, 2010.
Santosa, Ippho & Tim Khalifah, Muhammad Sebagai Pedagang, Jakarta: Kompas Gramedia, 2014.
Tarmizi, Erwandi. Harta Haram Muamalat Kontemporer, Edisi Kedelapanbelas, Bogor: Berkat Mulia Insani, 2018
Toutounchian. Iraj, Islamic Money and Banking: Integrating Money in Capital Theory, John Wiley & Son (Asia) Pte., Ltd., Singapore, 2009
Wahbah, Zuhaili, Al-Fiqhu Al-Islami wa Adilatuhu Juz V, Daar Alfkr, 1984.