2019
Buku Ajar
Teknologi Tepat Guna Aplikasi Biofertilizer Berbasis Limbah Pertanian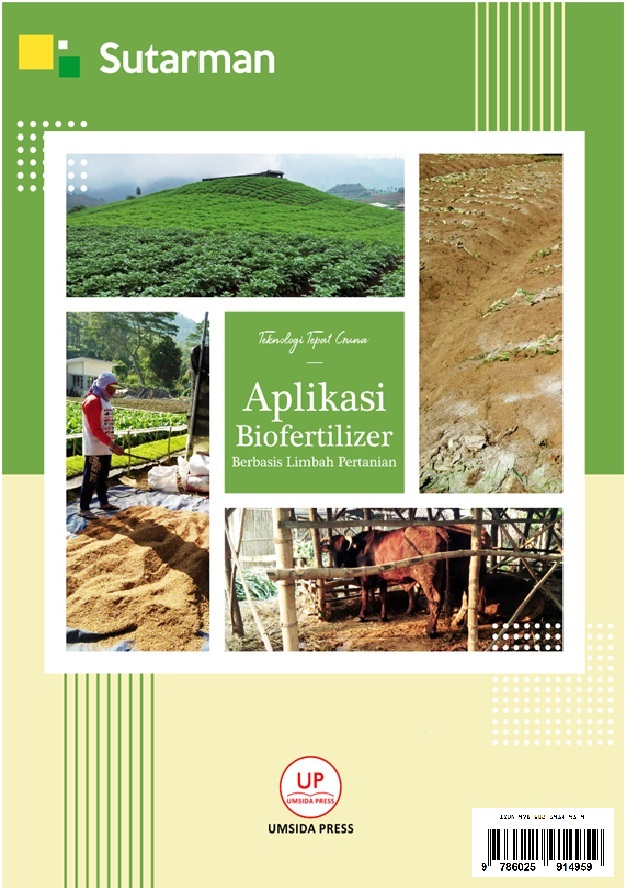 Picture in here are illustration from public domain image or provided by the author, as part of their works
Published
August 29, 2021
Keywords
Teknologi

,

Biofertilizer

,

Pertanian
How to Cite
Sutarman, S. (2021). Teknologi Tepat Guna Aplikasi Biofertilizer Berbasis Limbah Pertanian. Umsida Press, 1-16. https://doi.org/10.21070/2019/978-602-5914-95-9
Copyright (c) 2019 Sutarman
This work is licensed under a Creative Commons Attribution 4.0 International License.
Abstract
Dalam pemanfaatan teknologi tepat guna Aplikasi Biofertilizer Berbasis Limbah Ternak sebagai bagian dari luaran Penelitian Terapan Unggulan Perguruan Tinggi (PTUPT) 2018-2019.Buku ini disusun untuk memberikan petunjuk praktis bagi masyarakat dan petani yang ingin mengaplikasikan pupuk kandang yang juga berfungsi sebagai pupuk hayati (biofertilizer) sehingga dapat memberikan efek ganda bagi kesuburan tanah  dan kesehatan lahan.
Downloads
Download data is not yet available.
References
Anonim. 2017. Jokowi: Pemanfaatan 36,8 Juta Hektare Lahan Pertanian Belum Maksimal. http:// katadata.co.id/berita/2016/12/07/jokowi­pemanfaatan­368­juta hektare­lahan­pertanian­belum­maksimal. Diakses 22 April 2017.
Atman. 2006. Pengelolaan Tanaman Kedelai di Lahan Kering Masam. Jurnal Tambua, 5 (3): 281-287.
Geisseler D & Horwath WR. 2009. Relationship between carbon and nitrogen availability and extracellular enzyme activities in soil. Pedobiologia 53, 87–98.
Howell CR. 2003. Mechanisms employed by Trichoderma species in the biological control of plant diseases: the history and evolution of current concepts. Plant Dis. 87, 4–10.
Sarjan M & Sab'i. 2014. Karakteristik Polong Kedelai Varitas Unggul yang Terserang Hama Pengisap Polong (Riptortus linearis) pada Kondisi Cekaman Kekeringan. Jurnal Lahan Suboptimal 3 (2): 168-180
Suriadikarta DA & Simanungkalit RDM. 2006. Pendahuluan, dalam Simanungkalit RDM, Suriadikarta DA, Saraswati R, Setyorini D & Hartatik W (eds.). Pupuk organic dan pupuk hayati. Hlm. 1-10. Balai Besar Litbang Sumberdaya Lahan Pertanian, Badan Penelitian dan Pengembangan Pertanian. Bogor.
Sutarman. 2016. Seleksi Trichoderma Spp Dari Bawah Tegakan Pinus Dan Uji Daya Dukung Isolat Terpilih Terhadap Pertumbuhan Tomat Dan Sawi. dalam Prihtanti TM dan Herawati MM (peny,). Prosiding Konser Karya Ilmiah Nasional. Hlm. 125-134 Salatiga, 4 Agustus 2016. Salatiga, Indonesia, Universitas Kristen Satya Wacana, Salatiga.
Vargas Gil S, Pastorb S & Marcha GJ. 2009. Quantitative isolation of biocontrol agents Trichoderma spp. Gliocladium spp. and Actinomycetes from soil with culture media. Microbiol. Res. 164, 196–205.